`SBHUBA VIVAHA` SETS ANOTHER RECORD!
Posted date: 21 Fri, Jun 2013 – 07:56:28 AM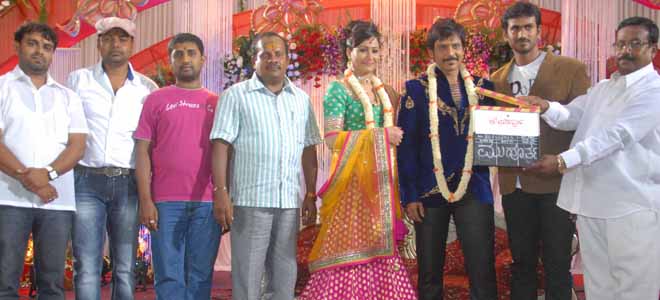 A marriage in social life goes outside the Marriage Hall. In this 'Shuba Vivaha' it is not even that. From reception to main marriage the proceedings take place in one marriage hall of Sri Bairasri Convention Hall owned by Smt Geetha Shanker.

It is the debut direction of well known choreographer of Kannada cinema Soori. In his debut he is hitting the attention for his film shooting in one place for 25 days with 30 artists.

The muhurut for this film 'Shuba Vivaha' was held on Thursday afternoon at the convention hall in Bidadi. The entire team was present to address the media.

Director Soori has made a captivating story and screenplay to attract the family audience. The film would not give a feel that it is happening in only one place. The father and son affection is part of this film. There will be lot of problems after the introduction of Ravi Teja character. Akul Balaji and Naksha Shetty are bridegroom and bride in this film. The film is set in middle class family. Three cameras are used by AC Mahendran for this film. The marriage is depicted happening in 24 hours.

Akul Balaji had seen positive vibes in this story narration. Once Ravi Teja enters there will be cracks in the marriage. Naksha Shetty looking very pretty in bridal costume says it is a very homely role for her.

Lakshmi wedding planner is doing the costume designing for this film. Srivatsa is scoring music for five songs and all of them are set in one place – marriage hall.
GALLERY